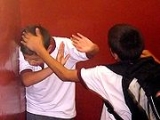 Bully
adjective
(1)
Very good
"He did a bully job"
"A neat sports car"
"Had a great time at the party"
"You look simply smashing"
noun
(2) A cruel and brutal fellow
verb
(3) Discourage or frighten with threats or a domineering manner; intimidate
(4)
Be bossy towards
"Her big brother always bullied her when she was young"
Noun
A person who is cruel to others, especially those who are weaker or have less power.
A hired thug.
Bully beef.
The penis.
Synonyms
Verb
To intimidate (someone) as a bully.
To act aggressively towards.
Synonyms
Interjection
Well done!

She's finally leaving her abusive husband — bully for her!