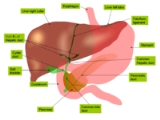 Liver
adjective
(1) Having a reddish-brown color
noun
(2) Large and complicated reddish-brown glandular organ located in the upper right portion of the abdominal cavity; secretes bile and functions in metabolism of protein and carbohydrate and fat; synthesizes substances involved in the clotting of the blood; synthesizes vitamin A; detoxifies poisonous substances and breaks down worn-out erythrocytes
(3) Liver of an animal used as meat
(4)
Someone who lives in a place
"A liver in cities"
(5)
A person who has a special life style
"A high liver"
Etymology 1
, from . Cognate with Dutch , German , Danish, Norwegian and Swedish ( < Old Norse ).
Noun
A large organ in the body that stores and metabolizes nutrients, destroys toxins and produces bile. Responsible for thousands of biochemical reactions.
This livestock organ used as food.
A dark brown colour, tinted with red and gray, like that of liver.
Adjective
Concerning or relating to the liver.

liver transplant

Intended for the liver.

liver salts

Of food, made of liver.

liver pâté
Related terms
See also