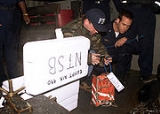 Federal Bureau of Investigation
Topics
Federal Bureau of Investigation
Timeline

Timeline
1908 United States Attorney General Charles Joseph Bonaparte issues an order to immediately staff the Office of the Chief Examiner (later renamed the Federal Bureau of Investigation).
1924 J. Edgar Hoover is appointed the Director of the United States' Federal Bureau of Investigation, and remains so until his death in 1972.
1932 In Washington, D.C., the FBI Scientific Crime Detection Laboratory (better known as the FBI Crime Lab) officially opens.
1933 Union Station Massacre: in Kansas City, Missouri, four FBI agents and captured fugitive Frank Nash are gunned down by gangsters attempting to free Nash.
1934 In East Liverpool, Ohio, Federal Bureau of Investigation agents shoot and kill notorious bank robber Pretty Boy Floyd. thumb
1934 Bank robber Baby Face Nelson dies in a shoot-out with the FBI.
1942 The Federal Bureau of Investigation (FBI) convicts 33 members of a German spy ring headed by Fritz Joubert Duquesne in the largest espionage case in United States history—the Duquesne Spy Ring
1949 Celebrities Helen Keller, Dorothy Parker, Danny Kaye, Fredric March, John Garfield, Paul Muni and Edward G. Robinson are named in an FBI report as Communist Party members.
1964 Pacific Air Lines Flight 773, a Fairchild F-27 airliner, crashes near San Ramon, California, killing all 44 aboard; the FBI later reports that a cockpit recorder tape indicates that the pilot and co-pilot had been shot by a suicidal passenger.
1972 Watergate Scandal: U.S. President Richard M. Nixon and White House Chief of Staff H. R. Haldeman are taped talking about using the Central Intelligence Agency to obstruct the Federal Bureau of Investigation's investigation into the Watergate break-ins.
1980 Reports surface that the FBI was targeting allegedly corrupt Congressmen in the Abscam operation.
1986 The FBI Miami shootout between eight Federal Bureau of Investigation agents and two heavily-armed and well-trained gunmen.
1990 Washington, D.C. Mayor Marion Barry is arrested for drug possession in an FBI sting.
1992 Charles Geschke, co-founder of Adobe Systems, Inc. is kidnapped at gunpoint from the Adobe parking lot in Mountain View, California and is held hostage for a ransom of $650,000 in a rented house in Hollister, California. The FBI rescues him four days later.
1992 FBI HRT sniper Lon Horiuchi shoots and kills Vicki Weaver during an 11-day siege at her home at Ruby Ridge, Idaho.
2001 FBI agent Robert Hanssen is arrested for spying for the Soviet Union. He is ultimately convicted and sentenced to life imprisonment.
2002 "American Taliban" John Walker Lindh returns to the United States in FBI custody.
2003 FBI agents raid the corporate headquarters of HealthSouth Corporation in Birmingham, Alabama on suspicion of massive corporate fraud led by the company's top executives.