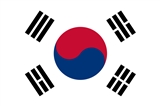 South Korea
Topics
South Korea
Timeline

Timeline
1948 In Jeju, South Korea, a civil-war-like period of violence and human rights abuses begins, known as the Jeju massacre.
1948 The South Korean constitution is proclaimed.
1948 The Republic of Korea is established south of the 38th parallel north.
1950 The Korean War begins with the invasion of South Korea by North Korea.
1950 Korean War: Troops from the People's Republic of China launch a massive counterattack in North Korea against South Korean and United Nations forces (the Battle of the Ch'ongch'on River and the Battle of Chosin Reservoir), ending any hopes of a quick end to the conflict.
1960 Students in South Korea hold a nationwide pro-democracy protest against their president Syngman Rhee, eventually forcing him to resign.
1973 Kim Dae-Jung, a South Korean politician and later president of South Korea, is kidnapped.
1974 Yuk Young-soo, First Lady of South Korea, is killed during an apparent assassination attempt upon President of South Korea, Park Chung-hee.
1974 Yuk Young-soo, First Lady of South Korea, is killed during an apparent assassination attempt upon President of South Korea, Park Chung-hee.
1974 78 die when the Time Go-Go Club in Seoul, South Korea burns down. Six of the victims jumped to their deaths from the seventh floor after a club official barred the doors after the fire started.
1980 General Chun Doo-hwan of South Korea declares martial law in order to suppress student demonstrations.
1980 Gwangju Massacre: students in Gwangju, South Korea begin demonstrations calling for democratic reforms.
1980 The Gwangju Massacre: Airborne and army troops of South Korea retake the city of Gwangju from civil militias, killing at least 207 and possibly many more.
1982 57 people are killed by former police officer Woo Bum-kon in a shooting spree in Gyeongsangnam-do, South Korea.
1983 Rangoon bombing: attempted assassination of South Korean President Chun Doo-hwan during an official visit to Rangoon, Burma. Chun survives but the blast kills 17 of his entourage, including four cabinet ministers, and injures 17 others. Four Burmese officials also die in the blast.
1991 Estonia, North Korea, South Korea, Latvia, Lithuania, the Marshall Islands and Micronesia join the United Nations.
1995 The Sampoong Department Store collapses in the Seocho-gu district of Seoul, South Korea, killing 501 and injuring 937.
1996 Start of the largest strike in South Korean history.
2000 President Kim Dae Jung of South Korea meets Kim Jong-il, leader of North Korea, for the beginning of the first ever inter-Korea summit, in the northern capital of Pyongyang.
2002 An Air China Boeing 767-200, flight CA129 crashes into a hillside during heavy rain and fog near Busan, South Korea, killing 128.
2002 Naval clashes between South Korea and North Korea lead to the death of six South Korean sailors and sinking of a North Korean vessel.
2003 Nearly 200 people die in the Daegu subway fire in South Korea.
2005 Snuppy, the world's first cloned dog is born in South Korea.
2007 Trains from North and South Korea cross the 38th Parallel in a test-run agreed by both governments. This is the first time that trains have crossed the Demilitarized Zone since 1953.
2007 President Roh Moo-hyun of South Korea walks across the Military Demarcation Line into North Korea on his way to the second Inter-Korean Summit with North Korean leader Kim Jong Il.
2007 The ''Hebei Spirit'' oil spill begins in South Korea after a crane barge being towed by a tug collides with the Very Large Crude Carrier, ''Hebei Spirit''.