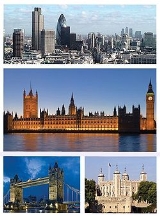 London
Topics
London
Quotations

Quotations
This is a list of quotations organized by the theme of
London
, the capital city of the
United Kingdom
.
Sourced
London goes beyond any boundary or convention. It contains every wish or word ever spoken, every action or gesture ever made, every harsh or noble statement ever expressed. It is illimitable. It is Infinite London.
Ah! my poor dear child, the truth is, that in London it is always a sickly season. Nobody is healthy in London, nobody can be.
London is a bad habit one hates to lose.

Anonymous popular saying, as quoted by William Sasom in, Blue Skies, Brown Studies, Hogarth press, (1961)
As I came down the Highgate Hill
I met the sun's bravado,
And saw below me, fold on fold,
Grey to pearl and pearl to gold,
This London like a land of old,
The land of Eldorado.
I've been walking about London for the last thirty years, and I find something fresh in it every day.
London is a splendid place to live in for those who can get out of it.

George John Gordon Bruce, 7th Lord Balfour of Burleigh. The Observer (UK) newspaper, Sayings of the Week, 1st October 1944
I don't know what London's coming to—the higher the buildings the lower the morals.

Noël Coward (1899-1973), English playwright and actor. 'Law and Order', Collected Sketches and Lyrics
London is a modern Babylon.

Benjamin Disraeli, Tancred, Bk. V. Ch. V. (1847)
London, that great cesspool into which all the loungers and idlers of the Empire are irresistibly drained.

Arthur Conan Doyle (1859–1930), British author. As stated by Dr. Watson, in A Study in Scarlet, Pt. 1. Ch. 1. (1887)
London, thou art the flour of cities all!
London always reminds me of a brain. It is similarly convoluted and circuitous. A lot of cities, especially American ones like New York and Chicago, are laid out in straight lines. Like the circuits on computer chips, there are a lot of right angles in cities like this. But London is a glorious mess. It evolved from a score or so of distinct villages, that merged and meshed as their boundaries enlarged. As a result, London is a labyrinth, full of turnings and twistings just like a brain.

James Geary, American journalist, author and aphorist. 'On London', All Aphorisms, All The Time. (James Geary website, 2009)
Maybe it's because I'm a Londoner,
That I love London so;
Maybe it's because I'm a Londoner,
That I think of her wherever I go.
I get a funny feeling inside of me,
Just walking up and down;
Maybe it's because I'm a Londoner,
That I love London town.
London doesn't love the latent or the lurking, has neither time, nor taste, nor sense for anything less discernible than the red flag in front of the steam-roller. It wants cash over the counter and letters ten feet high.
By seeing London, I have seen as much of life as the world can show.
When a man is tired of London, he is tired of life; for there is in London all that life can afford.
"Sir, if you wish to have a just notion of the magnitude of this city, you must not be satisfied with seeing its great streets and squares, but must survey the innumerable little lanes and courts. It is not in the showy evolutions of buildings, but in the multiplicity of human habitations which are crowded together, that the wonderful immensity of London consists.".
Finally, I wish to speak directly to those who came to London today to take life. I know that you personally do not fear giving up your own life in order to take others – that is why you are so dangerous. But I know you fear that you may fail in your long-term objective to destroy our free society and I can show you why you will fail. In the days that follow, look at our airports, look at our sea ports and look at our railway stations and, even after your cowardly attack, you will see that people from the rest of Britain, people from around the world will arrive in London to become Londoners and to fulfil their dreams and achieve their potential. They choose to come to London, as so many have come before because they come to be free, they come to live the life they choose, they come to be able to be themselves. They flee you because you tell them how they should live. They don't want that and nothing you do, however many of us you kill, will stop that flight to our city where freedom is strong and where people can live in harmony with one another. Whatever you do, however many you kill, you will fail.

Ken Livingstone, July 7, 2005 speech in response to the London terrorist attacks on that same day
You are now In London, that great sea, whose ebb and flow At once is deaf and loud, and on the shore Vomits its wrecks, and still howls on for more. Yet in its depth what treasures!