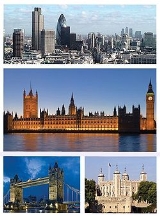 London
Topics
London
Timeline

Timeline
1066 William the Conqueror is crowned king of England, at Westminster Abbey, London.
1305 William Wallace, who led the Scottish resistance against England, is captured by the English near Glasgow and transported to London where he is put on trial and executed.
1497 Cornish rebels Michael An Gof and Thomas Flamank are executed at Tyburn, London.
1534 The Irish rebel Silken Thomas is executed by the order of Henry VIII in London, England.
1536 Anne Boleyn, Queen of England, stands trial in London on charges of treason, adultery and incest. She is condemned to death by a specially-selected jury.
1559 Elizabeth I is crowned Queen of England in Westminster Abbey, London.
1571 The Royal Exchange opens in London.
1578 Martin Frobisher sails from Harwich, England to Frobisher Bay, Canada, eventually to mine fool's gold, used to pave streets in London.
1604 William Shakespeare's tragedy ''Othello'' is presented for the first time, at Whitehall Palace in London.
1609 Shakespeare's sonnets are first published in London, perhaps illicitly, by the publisher Thomas Thorpe.
1611 William Shakespeare's romantic comedy ''The Tempest'' is presented for the first time, at Whitehall Palace in London.
1613 The Globe Theatre in London, England burns to the ground.
1650 Henry Robinson opens his ''Office of Addresses and Encounters'' in Threadneedle Street, London.
1661 English Restoration: The Fifth Monarchists unsuccessfully attempt to seize control of London.
1666 In London, England, the most destructive damage from the Great Fire occurs.
1675 The foundation stone of the Royal Greenwich Observatory in London is laid.
1698 Most of the Palace of Whitehall in London, the main residence of the English monarchs, is destroyed by fire.
1701 After being convicted of piracy and of murdering William Moore, Captain William Kidd is hanged in London.
1711 The London première of ''Rinaldo'' by George Frideric Handel, the first Italian opera written for the London stage.
1711 The London première of ''Rinaldo'' by George Frideric Handel, the first Italian opera written for the London stage.
1715 "Edmund Halley's" total solar eclipse (the last one visible in London, United Kingdom for almost 900 years).
1717 The Premier Grand Lodge of England, the first Masonic Grand Lodge in the world (now the United Grand Lodge of England), is founded in London, England.
1718 James Puckle, a London lawyer, patents the world's first machine gun.
1724 Joseph Blake, alias Blueskin, a highwayman known for attacking "Thief-Taker General" (and thief) Jonathan Wild at the Old Bailey, is hanged in London.
1726 Five men arrested during a raid on Mother Clap's molly house in London are executed at Tyburn.
1732 The Royal Opera House opens at Covent Garden, London.
1738 Premiere in London of ''Serse'', an Italian opera by George Frideric Handel.
1743 The premiere of George Frideric Handel's oratorio, "Samson" takes place in London.
1757 English poet Christopher Smart is admitted into St Luke's Hospital for Lunatics in London, beginning his six-year confinement to mental asylums.
1766 In London, James Christie holds his first sale.
1768 In London, Philip Astley stages the first modern circus.
1768 John Wilkes is imprisoned for writing an article for ''The North Briton'' severely criticizing King George III. This action provokes rioting in London.
1772 The first traveler's cheques, which can be used in 90 European cities, go on sale in London.
1776 American Revolutionary War: word of the United States Declaration of Independence reaches London.
1783 John Austin, a highwayman, is the last person to be publicly hanged at London's Tyburn gallows.
1788 First edition of ''The Times'' of London, previously ''The Daily Universal Register'', is published.
1791 A Constitutional Act is introduced by the British House of Commons in London which envisages the separation of Canada into Lower Canada (Quebec) and Upper Canada (Ontario).
1803 The Surrey Iron Railway, arguably the world's first public railway, opens in south London.
1809 The Royal Opera House in London opens.
1812 Prime Minister Spencer Perceval is assassinated by John Bellingham in the lobby of the House of Commons, London.
1812 Work on London's Regent's Canal starts.
1814 The Convention of London, a treaty between the United Kingdom and the United Provinces, is signed in London.
1814 London Beer Flood occurs in London, killing nine.
1814 ''The Times'' in London is for the first time printed by automatic, steam powered presses built by the German inventors Friedrich Koenig and Andreas Friedrich Bauer, signaling the beginning of the availability of newspapers to a mass audience.
1820 London's Regent's Canal opens.
1828 The St Katharine Docks opened in London.
1834 Much of the ancient structure of the Palace of Westminster in London is burnt to the ground.
1837 The first commercial use of an electric telegraph is successfully demonstrated by William Cooke and Charles Wheatstone on 25 July 1837 between Euston and Camden Town in London.
1840 Foundation stone for new Palace of Westminster, London, is laid by wife of Sir Charles Barry.
1843 The ''News of the World'' tabloid begins publication in London.
1844 The Young Men's Christian Association (YMCA) is founded in London.
1848 Waterloo railway station in London opens.
1849 The Great Hall of Euston station in London is opened.
1851 Queen Victoria opens the Great Exhibition in London.
1851 Herman Melville's ''Moby-Dick'' is first published as ''The Whale'' by Richard Bentley of London.
1852 Great Ormond St Hospital for Sick Children, London, admits its first patient.
1853 A dinner party is held inside a life-size model of an Iguanodon created by Benjamin Waterhouse Hawkins and Sir Richard Owen in south London.
1857 The first investiture of the Victoria Cross in Hyde Park, London.
1858 Opening of the present Royal Opera House in Covent Garden, London.
1859 Westminster's Big Ben rang for the first time in London.
1865 The Salvation Army is founded in the East End of London, England.
1866 The Royal Aeronautical Society is formed in London.
1867 Fenian bomb explodes in Clerkenwell, London, killing six.
1868 The first traffic lights are installed, outside the Palace of Westminster in London. Resembling railway signals, they use semaphore arms and are illuminated at night by red and green gas lamps.
1870 Tower Subway, the world's first underground tube railway, opens in London.
1872 The Wanderers F.C. wins the first FA Cup, the oldest football competition in the world, beating Royal Engineers A.F.C. 1-0 at The Oval in Kennington, London.
1873 Alexandra Palace in London burns down after being open for only 16 days.
1878 Gilbert and Sullivan's comic opera ''H.M.S. Pinafore'' opens at the Opera Comique in London.
1884 Greenwich, in London, England, is established as Universal Time meridian of longitude.
1887 Bloody Sunday clashes in central London.
1888 The first of eleven unsolved brutal murders of women committed in or near the impoverished Whitechapel district in the East End of London, occurs.
1888 A recording of English composer Arthur Sullivan's The Lost Chord, one of the first recordings of music ever made, is played during a press conference introducing Thomas Edison's phonograph in London.
1888 In London, the body of Jack the Ripper's second murder victim, Annie Chapman, is found.
1889 The free Woolwich Ferry officially opens in east London.
1890 City & South London Railway: London's first deep-level tube railway opens between King William Street and Stockwell.
1895 Oscar Wilde is arrested in the Cadogan Hotel, London after losing a libel case against the John Sholto Douglas, 9th Marquess of Queensberry.
1895 The first individual time trial for racing cyclists is held on a 50-mile course north of London.
1897 Italian scientist Guglielmo Marconi obtains a patent for radio in London.
1897 London becomes the world's first city to host licenced taxicabs.
1906 Vauxhall Bridge is opened in London.
1909 The Science Museum in London comes into existence as an independent entity.
1910 Dr. Crippen is convicted at the Old Bailey of poisoning his wife and is subsequently hanged at Pentonville Prison in London.
1917 Silvertown explosion: 73 are killed and 400 injured in an explosion in a munitions plant in London.
1917 World War I: the deadliest German air raid on London during World War I is carried out by Gotha G bombers and results in 162 deaths, including 46 children, and 432 injuries.
1919 Lincoln's Inn in London admits its first female bar student.
1924 The last Rolls-Royce Silver Ghost is sold in London, England.
1925 Canada House opens in London, England.
1927 The first transatlantic telephone call is made – from New York City to London.
1933 In London, 500,000 march against anti-Semitism.
1936 The International Surrealist Exhibition opens in London, England.
1936 The Jarrow March sets off for London.
1936 In London, the Crystal Palace is destroyed by fire.
1940 World War II: Norwegian refugees form a government-in-exile in London
1940 King Haakon VII of Norway, Crown Prince Olav and the Norwegian government leave Tromsø and go into exile in London.
1940 Balham subway station disaster, in London, England, occurs during the Nazi Luftwaffe air raids on Great Britain.
1940 World War II: In The Second Great Fire of London, the Luftwaffe fire-bombs London, killing almost 200 civilians.
1943 World War II: In London, England, 173 people are killed in a crush while trying to enter an air-raid shelter at Bethnal Green tube station.
1943 World War II: The discovery of a mass grave of Polish prisoners of war executed by Soviet forces in the Katyń Forest Massacre is announced, alienating the Western Allies, the Polish government in exile in London, from the Soviet Union.
1944 World War II: London is hit by a V2 rocket for the first time.
1945 Lord Haw Haw (William Joyce) is sentenced to death in London.
1947 The Princess Elizabeth marries Lieutenant Philip Mountbatten at Westminster Abbey in London.
1951 London's Royal Festival Hall opens with the Festival of Britain
1951 The first regularly scheduled transatlantic flights begin between Idlewild Airport (now John F Kennedy International Airport) in New York City and Heathrow Airport in London, operated by El Al Israel Airlines.
1952 The world's first ever jet airliner, the De Havilland Comet 1 makes its maiden flight, from London to Johannesburg.
1952 Agatha Christie's murder-mystery play ''The Mousetrap'' opens at the Ambassadors Theatre in London later becoming the longest continuously-running play in history.
1953 Edward Mutesa II, the ''kabaka'' (king) of Buganda is deposed and exiled to London by Sir Andrew Cohen, Governor of Uganda.
1955 The Russell-Einstein Manifesto is released by Bertrand Russell in London.
1958 The CND Peace Symbol displayed in public for the first time in London.
1962 The Rolling Stones perform their first ever concert, at the Marquee Club in London.
1963 Marriage of Her Royal Highness Princess Alexandra of Kent to Angus Ogilvy at Westminster Abbey in London.
1965 Train robber Ronald Biggs escapes from Wandsworth Prison, London.
1967 The world's first ATM is installed in Enfield, London.
1968 The Nuclear non-proliferation treaty is signed in Washington, D.C., London and Moscow by sixty-two countries.
1968 The stage musical ''Hair'' opens at the Shaftesbury Theatre in London, where it played 1,998 performances until its closure was forced by the roof collapsing in July 1973.
1969 The Beatles' last public performance, on the roof of Apple Records in London. The impromptu concert is broken up by the police.
1972 A parcel bomb sent to Israeli Embassy in London kills one diplomat.
1974 Ian Ball attempts, but fails, to kidnap Her Royal Highness Princess Anne and her husband Captain Mark Phillips in The Mall, outside Buckingham Palace, London.
1974 The ''SR-71 Blackbird'' sets (and holds) the record for flying from New York to London in the time of 1 hour, 54 minutes and 56.4 seconds.
1975 A major tube train crash at Moorgate station, London kills 43 people.
1976 The Northern Ireland Constitutional Convention is formally dissolved in Northern Ireland resulting in direct rule of Northern Ireland from London via the British parliament.
1976 The London to Washington, D.C. Concorde service begins.
1977 British Airways inaugurates a regular London to New York City supersonic Concorde service.
1978 While walking across Waterloo Bridge in London, Bulgarian dissident Georgi Markov is assassinated by Bulgarian secret police agent Francesco Giullino by means of a ricin pellet fired from a specially-designed umbrella.
1979 Lancaster House Agreement: An independence agreement for Rhodesia is signed in London by Lord Carrington, Sir Ian Gilmour, Robert Mugabe, Joshua Nkomo, Bishop Abel Muzorewa and S.C. Mundawarara.
1980 Operation Nimrod: The British Special Air Service storms the Iranian embassy in London after a six-day siege.
1981 At the Trooping the Colour ceremony in London, a teenager, Marcus Sarjeant, fires six blank shots at Queen Elizabeth II.
1981 A worldwide television audience of over 700 million people watch the wedding of Charles, Prince of Wales, and Lady Diana Spencer at St Paul's Cathedral in London.
1982 The Israeli ambassador to the United Kingdom, Shlomo Argov, is shot on a London street. He survives but is permanently paralysed.
1982 The body of ''God's Banker'', Roberto Calvi is found hanging beneath Blackfriars Bridge in London.
1982 Hyde Park and Regents Park bombings: The Provisional IRA detonates two bombs in Hyde Park and Regents Park in central London, killing eight soldiers, wounding forty-seven people, and leading to the deaths of seven horses.
1983 Brink's-MAT robbery: In London, 6,800 gold bars worth nearly £26 million are stolen from the Brink's-MAT vault at Heathrow Airport.
1983 The IRA bombs Harrods Department Store in London, killing six people.
1984 Police Constable Yvonne Fletcher is killed by gunfire from the Libyan People's Bureau in London during a small demonstration outside the embassy. Ten others are wounded. The events lead to an 11-day siege of the building.
1985 The Live Aid benefit concert takes place in London and Philadelphia, as well as other venues such as Sydney and Moscow.
1986 In London, Prince Andrew, Duke of York marries Sarah Ferguson at Westminster Abbey.
1986 The musical ''The Phantom of the Opera'' has its first performance at Her Majesty's Theatre in London.
1987 King's Cross fire: In London, 31 people die in a fire at the city's busiest underground station at King's Cross St Pancras.
1990 200,000 protestors take to the streets of London to protest against the newly introduced Poll Tax.
1991 The IRA explodes bombs in the early morning at Paddington station and Victoria station in London.
1996 The Irish Republican Army declares the end of its 18 month ceasefire shortly followed by the explosion of a large bomb in London's Canary Wharf.
1997 In London scientists report the findings of the DNA analysis of a Neanderthal skeleton which support the "out of Africa theory" of human evolution placing an "African Eve" at 100,000 to 200,000 years ago.
1999 The Scottish Parliament is officially opened by Queen Elizabeth on the day that legislative powers are officially transferred from the old Scottish Office in London to the new devolved Scottish Executive in Edinburgh.
1999 The Ladbroke Grove rail crash in west London kills 31 people.
2001 4 March 2001 BBC bombing: a massive car bomb explodes in front of the BBC Television Centre in London, seriously injuring 1 person. The attack was attributed to the Real IRA.
2001 The Real IRA detonates a car bomb in Ealing, London, UK injuring seven people.
2006 Her Majesty Queen Elizabeth II unveils the New Zealand War Memorial in London, United Kingdom, commemorating the loss of soldiers from the New Zealand Army and the British Army.